Conferences, Workshops
| The Mathematics os Darwin's Legacy
23/24 November 2009, Lisbon - Portugal.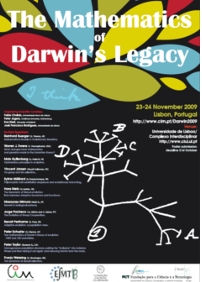 In the framework of the "Darwin year", CMAF supports the internationl conference organized by CIM (International Center for Mathematics) in collaboration with the European Society for Mathematical and Theoretical Biology at the University of Lisbon, on the occasion of the 150th anniversary of the publication of "On the Origins of Species by Means of Natural Selection".
The general aim of this two days high level conference is to present a general overview of the mathematical models of the evolution, including topics as Evolutionary Game Theory, Structured Evolution, Population Genetics, Probabilistic Models and Selection Theories.
See http://www.cim.pt/Darwin2009/ for more information, including how to submit a poster until October 31st.
| back